>>> Tags: none
Chennai Inter-city transport information
Chennai City transport - Chennai Suburban Railway Network
For a detailed Chennai suburban timetable, click on this Southern Railway link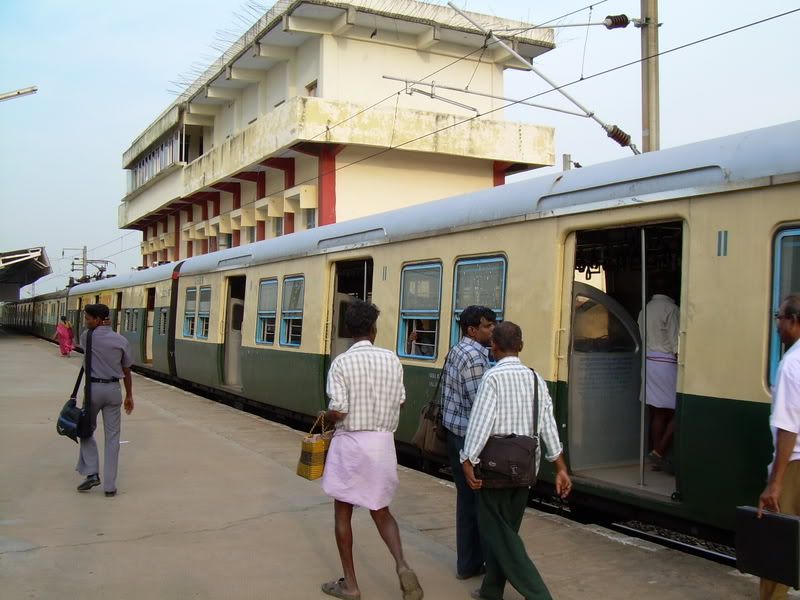 Called Local train, Suburban train, EMU or simply train, it is a surface rail line connecting different parts of Chennai and its suburbs.Though carrying less than 20% load of public transport, suburban trains have had a much more significant role in the development of Chennai as a metropolitan centre. They came to Chennai several decades before other modes of transport, during British times. In fact the first train (not suburban) ran from Chennai in 1856. More importantly, much of the Chennai's urban sprawl was/is a direct result of the availability of  train services. From Central Chennai, a radius of nearly 40-50 Kms became urbanised  because of trains. And life in a suburban train developed its own sub-culture. Lifelong friendships are formed, Bhajan's sung, there is space and time for many an interesting activity - from the blind beggar / singer to peanut and fruit vendors, a people observer has enough things to while away their time during the train journey. There's also the obvious advantage of more comfortable and less crowded travel in train than by bus.
The following schematic map of the Chennai area suburban railway network is by Arun Ganesh and is published under the following licence: Licensed under the Creative Commons Attribution ShareAlike 2.5 License.
Click on the image for the original and bigger picture which is stored in IRFCA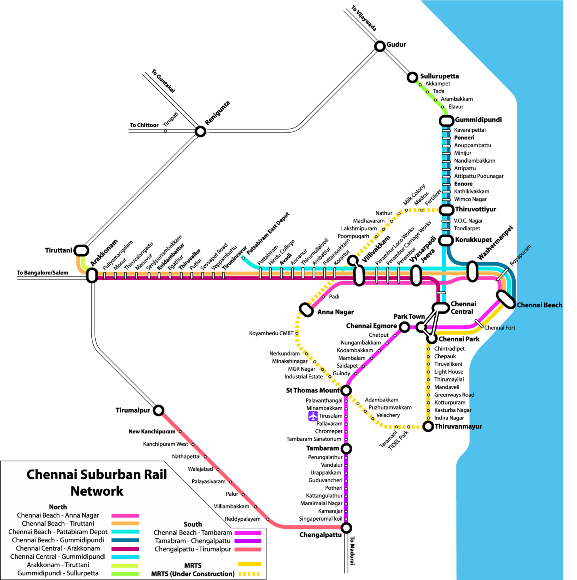 The suburban train route covers 3 lines apart from MRTS.
Chennai Beach - Tambaram and beyond to Chengapattu
 Pic: Tambaram Railway Station
This is the main line and the one that comes to most people's mind when you talk of local trains in Chennai (may be because I was mostly living in this line's catchment area). Both in terms of train frequency and passenger numbers, this is bigger than the other two combined.  It covers some prominent commercial centres, transport terminals as well as the more developed residential colonies of South Chennai. Starting from Beach, it travels south some 28 Kms to Tambaram through Fort (for Broadway), Park (for Central), Egmore, Mambalam (for T.Nagar shopping), Guindy (for Rail / bus Interchange), Tirusoolam (for Chennai Airport) and finally onto Tambaram which is a major suburban and transport hub in South Chennai. The trains run between 4 Am to 12 PM with peak time frequencies of 5 mins and 15 minutes at other times. Tambaram is also the starting point for the less frequent service to Chengalpattu (29 Kms) which connects to the fast growing industrial centre of Maraimalai Nagar and Mahindra city. These are mostly hourly with half hourly services during office times. There are also 3 trains to Kanchipuram via Chengalpattu.
Chennai Central - Avadi - Thiruvallur - Arakkonam - Thiruthani
This line connects Chennai with its western suburbs, a fast growing industrial and residential area. Starting from Chennai Central, it passes through Perambur, Ambattur, Avadi, Thiruvallur and Arakkonam for a distance of 70 Kms while some some services are extended to Thiruthani another 16 kms away. Some services goto Chennai Beach or continue on to the Tambaram side. A much hyped extension to Anna Nagar is not very successful yet.
This route runs on the train line towards Bangalore / Kerala and hence services were not very frequent. However with growing traffic, new and separate lines were added for suburban network but even they are proving to be insufficient. While Ambattur and Avadi apart their original industrial base are also becoming increasingly important residential districts, the growth has spread upto and including Thiruvallur, mostly around the railway stations. The peak hour frequency is 10 Mins, day-time it is 20 mins and 30-45 mins during off-peak. When all the planned and proposed IT/ITes parks as well as large residential township plans materialise in and around Ambattur, this line is going to get even busier.
Chennai Central - Gummidipoondi - Sullurpetta
This route starts from Chennai Central (some from Beach) and runs north through the mostly industrial areas of Thiruvotriyur, Ennore, Minjur, Ponneri and Gummidpoondi (46 Kms). Some trains go upto Sullurpeta in Andhra (83 kms), a connecting point for ISRO and its residential colonies. The city has not grown much in this direction, as is entire North Chennai and the services remain infrequent. It is about 30 mins during peak and 45-60 mins at other times. Lots of expansion is planned / happening in Ennore port and North Chennai Thermal power plant, but this is not a happening place for residential growth yet. 
Chennai MRTS currently runs from Chennai Beach - Velachery. While the frst phase upto Thirumylai (Mylapore) was no success, the partial extension to Thiruvanmiyur proved a little better with the IT parks coming up nearby. The Velachery link which has been dragging for years was finally completed and inaugurated recently. This is covered in a separate post with full time table. A 10,000 crore Metro rail is also in the pipeline for Chennai but that is in the far future.